My Blog
Posts for: June, 2018
By Aaron J. Grier, DDS, PC
June 20, 2018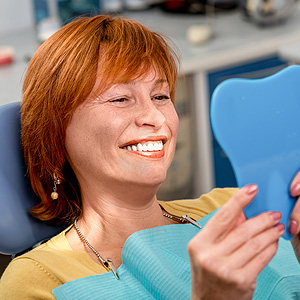 There's a lot to like about dental implants for replacing missing teeth. Not only are they life-like, but because they replace the root they also function much like a natural tooth. They also have another unique benefit: a track record for long-lasting durability. It's estimated more than 95% of implants survive at least ten years, with a potential longevity of more than 40 years.
But even with this impressive record, we should still look at the few that didn't and determine the reasons why they failed. We'll soon find that a great number of those reasons will have to do with both oral and general health.
For example, implants rely on adequate bone structure for support. Over time bone cells grow and adhere to the implant's titanium surface to create the durable hold responsible for their longevity. But if conditions like periodontal (gum) disease have damaged the bone, there might not be enough to support an implant.
We may be able to address this inadequacy at the outset with a bone graft to encourage growth, gaining enough perhaps to eventually support an implant. But if bone loss is too extensive, it may be necessary to opt for a different type of restoration.
Slower healing conditions caused by diseases like diabetes, osteoporosis or compromised immune systems can also impact implant success. If healing is impeded after placement surgery the implant may not integrate well with the bone. An infection that existed before surgery or resulted afterward could also have much the same effect.
Oral diseases, especially gum disease, can contribute to later implant failures. Although the implant's materials won't be affected by the infection, the surrounding gum tissues and bone can. An infection can quickly develop into a condition known as peri-implantitis that can weaken these supporting structures and cause the implant to loosen and give way. That's why prompt treatment of gum disease is vital for an affected implant.
The bottom line: maintaining good oral and general health, or improving it, can help keep your implant out of the failure column. Perform daily brushing and flossing (even after you receive your implant) and see your dentist regularly to help stop dental disease. Don't delay treatment for gum disease or other dental conditions. And seek medical care to bring any systemic diseases like diabetes under control.
If you would like more information on dental implants, please contact us or schedule an appointment for a consultation. You can also learn more about this topic by reading the Dear Doctor magazine article "Dental Implants: A Tooth-Replacement Method that Rarely Fails."
By Aaron J. Grier, DDS, PC
June 10, 2018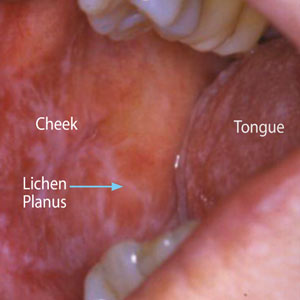 If you've noticed a small sore in your mouth, it's possible you have a non-contagious disease known as lichen planus. Although usually benign, it's still a good idea to have it examined and monitored.
The condition is so named because its lesions are similar in appearance to lichen, the algae and fungi organism often found on rocks and trees. It's believed to be a type of autoimmune disease, in which the body treats some of its own cells as foreign and reacts adversely to them. Certain medications and substances may also cause a lichenoid reaction. Besides the inner cheeks, gums or tongue, lichen planus may also appear on other skin or mucous surfaces on the wrists, legs or fingernails.
When it appears inside the mouth it usually resembles a lacy pattern of white lines or ulceration. Gum tissues may become red and inflamed, with some soreness after brushing or eating. Although there's no known cure for lichen planus, it rarely causes serious problems — in fact, you may not even be aware you have the condition unless pointed out during a dental exam. It may, in time, fade away.
If the lesions do become bothersome (painful, itchy or overly-sensitive), there are some ways to ease discomfort: brushing with a soft toothbrush (to minimize irritation), flossing, and avoiding acidic or spicy foods and beverages which have been known to cause flare-ups. Managing stress is also helpful, and a topical steroid may be prescribed for more severe outbreaks.
Perhaps the greatest concern with lichen planus, though, is it may resemble more serious conditions, particularly oral cancer. The only way to be certain that it is a benign condition is to perform a biopsy on some of the affected tissue. If you notice a problem, be sure to visit us for a complete examination. And regardless of whether you have the condition or not, regular oral cancer screenings, as well as limits on alcohol consumption and stopping use of tobacco, will also reduce your risk of oral cancer.
Odds are if you have a case of lichen planus it isn't causing you any problems. If it does cause you discomfort, though, you can take steps to ease your symptoms.
If you would like more information on lichen planus and similar oral conditions, please contact us or schedule an appointment for a consultation.